Pin'inspiration 2013: A Thursday Linky Party!
I have very exciting news: I've been invited to join Pin'Inspirational Thursdays. What does that mean? Every Thursday I will be bringing you some bits of creative inspiration from around the blogosphere, selected by me or by one of my lovely and talented co-hosts. In return for pin'inpsiring you, you must pin'inpsire us by posting a link to your own bit of creative brilliance.

Note that Pin'inpirational Thursday is NOT limited to food. (I know, shocking, right?). We want to see all your creative endeavours, whether they be of the edible variety or not.
Before I let you read the first post and all its fantasticness (look out for the giveaway down there – very cool), let me very quickly introduce you to my astonishingly amazing co-hosts:
First we have Marilyn from The Artsy Girl Connection. Marilyn is mama to two beautiful moon heads and a lover of M&Ms. She's an inspiring photographer with photos of families that make me want to jump right inside for a cuddle and photos of couples that make me want to find The Hubs and get a kiss. She also has some seriously great fashion sense.
Second up is Micki from Confessions of an ADD Housewife. Micki is a jack of all trades who loves them all but has trouble settling in with one (or at least settling in with one for longer than two minutes). That's probably a good thing since, as the mom of six (es, I did say six) she probably has to be very good at switching between tasks. She has a fun blog full of food, home renos, tips and, well, everything.
And finally, we have my dear friend Jane from Jane's Adventures in Dinner. If you've been reading here for awhile you already know Jane since she has guest posted here and has been on a video chat with Katie and me all about quick weeknight dinners. I also have mentioned her elsewhere because it's hard not to keep thinking about her creative ideas and thus feeling the need to mention her and them. Jane makes food the way I dream of making food – so good and yet so simple. And she writes about it in a way that makes you know you can do it too. You just need to relax, smile, and even laugh, so that you can enjoy the whole easy process. See, she inspires me not only to cook her food but to have this WAY in the kitchen that is full of simple grace and fun. Did I mention that I love Jane?
O.K., enough from me. Now onto Jane's Pin'inspirational Thursday post. (Note that if you clicked Like on any of the Facebook Buttons above (and if you didn't, I order you to do it now!!!) make sure you go down to the bottom of this post and comment to let me know. Leave a comment for each one and you will be entered that many times in Jane's crazy-good cookbook giveaway. And hey, that goes for the Cook the Story Facebook Like Button over here).
From the mouth of Jane:
Happy, Happy New Year!
We thought as your hosts each week that we would start the new year off with a bang!
It's my (Jane) pleasure to get to introduce it all to you.
This party started with the gorgeous Marilyn who then invited me.
We both fell in love with the amazing Micki and decided to expand starting today with the most awesome Christine.
Christine originally hails from Canada but after marrying her Brit husband they have now settled with their two little ones in Florida.
'Cook the Story' is a fabulous blog where you can learn to cook something totally delicious, be completly entertained,. get caught up with a true political junkie AND view some of the rockingest video chats EVER.
She's an all-round good egg.
Can you see why we adore her?
As of today, when you join up one of your lovely projects at one of our blogs you get to have it viewed on all four.
Yay!
We'll be having our regular features again starting next week and can hardly WAIT to see what you've created.
To make things even better though we have four giveaways in the next four weeks.
This week is mine and you won't be surprised that I'm giving away a….
cookbook!
A lovely one that I use often and now you can too.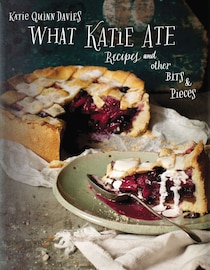 Even if you don't cook, you'll love to read this book from cover to cover.
Katie is funny and her pictures are stunning-something I am desperately trying to improve upon.
Maybe that will be my resolution.
So, how can you win it?
Lots of ways and each gets you an entry.
Please leave a comment for EACH entry;
1) Follow me (Jane's Adventuresindinner) through linky followers (mandatory).
2) Follow my fellow peeps through linky followers.
3) Follow myself or my fellow hosts through; pinterest, twitter, facebook or instagram.
Essentially we would love you to stalk us (just kidding).
Remember to add a comment for each method that you've chosen.
Don't worry about having to comment on all of our blogs (that would be silly).
We'll all be chatting back and forth to make sure you are including as many times as possible.
And now onto your talents, what have you been up to?
Happy, happy DAY!
Need a reminder about the party.
Here's the 411
1) link as many projects as you'd like
2) visit lots of other folks (everyone likes company) and show them some bloggy love
3) please don't link businesses